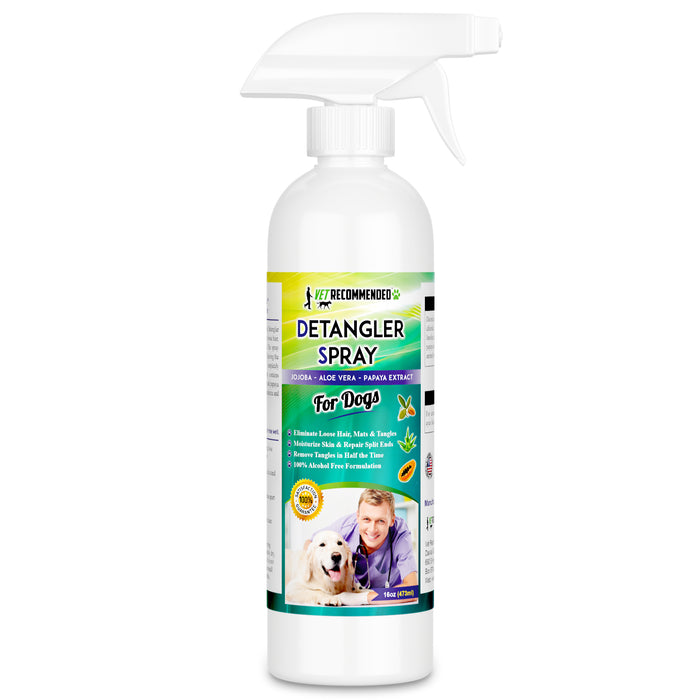 Dog Detangler Spray - To Remove Matts and Rejuvenate Coat - 16oz/473ml
✅ GROOMER GRADE DOG DETANGLING SPRAY: The dog detangler conditioner makes brushing easier without pulling at the hair and fur. We all hate to cut the hair leaving "holes" in their beautiful coat. Leave the dog coat smelling wonderful and fresh and is the perfect fix when you don't have the energy for a full doggy bath.
✅ SOFT & SILKY RESULTS: Our dog dematting spray with papaya extract is the perfect solution to keep your dogs coat soft and smooth with no matts. Promotes healthy skin can coat and can be used with spot on flea treatments. De-matting spray is an excellent formulation for all animals great and small including dogs, cats, guinea pigs, rabbits, puppies and kittens.
✅ SPEED UP BRUSHING TIME: With platinum grade ingredients like jojoba, aloe vera and papaya extract the Vet Recommended dog detangler solution with papaya extract will simply untangle your pets coat and separate the hair so you can brush it out with ease after bathtime.
✅ BOTANICALS - NOT ALCOHOL & PARABENS: Vet Recommended Waterless dog hair detangler the practical and luxurious solution to dog detangling and eliminating the most unmanable knots. Contains no alcohol, SLS, parabens or animal by-products. Wonderful for all skin types including dry and sensitive skin.
✅ OUR SAFE COMMITMENT: Our packaging is made with recycled materials and eco-friendly. Safe for your pet, but also minimal environmental impact on our planet. We do not promote testing on animals.

✅ Made in the USA.