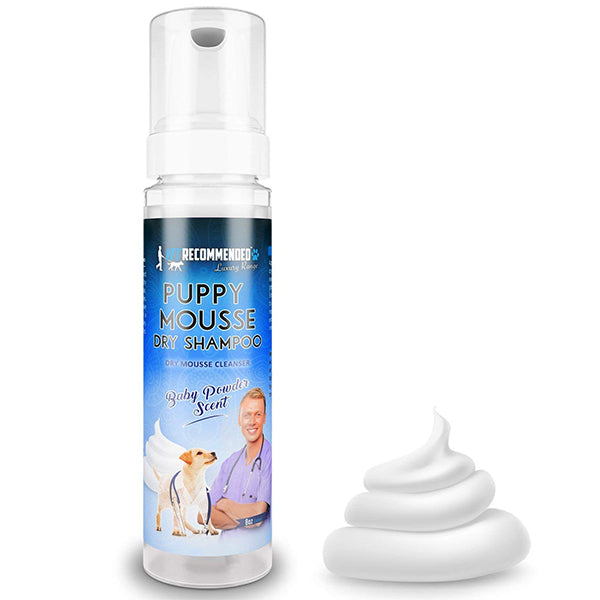 Waterless Puppy Shampoo Mousse - No Rinse - Fur Baby Powder Scent - 8oz/240ml
✅ KEEP YOUR NEW BABY SMELLING LIKE A BABY!: Our talcum powder scented foam mousse was created to have your puppy smelling just a newborn. (and not the stinky kind either) Our best shampoo for puppies is a quick, simple & easy solution for smelly dogs that need a quick rejuvenation.

✅ SIMPLY SPRAY MOUSSE & MASSAGE TO CLEAN: Use the dry shampoo for dogs as needed by spraying the mousse into your puppy's coat and then massaging the hair and coast for a fresher smelling puppy.

✅ FOR THOSE INEVITABLE ACCIDENTS: Let's face it; they're our babies! Our dry dog shampoo waterless mousse is the best in-between shampoo for puppies; perfect for those inevitable pet accidents. Remove dirt, urine and feces using the dry dog shampoo foam mousse. Use as frequent as necessary; it's perfect for spot cleaning and removing pup odors.

✅ QUICK LUXURIOUS CLEAN BETWEEN WASHES: The perfect dog wash for busy people; this simple & easy solution in great for smelly puppies that need a quick clean. Doesn't contain artificial dyes and won't discolor the coat. This hypoallergenic tearless puppy shampoo will have your puppy feeling like silk again.

✅ ALCOHOL FREE SOLUTION: Vet Recommended Waterless Puppy Shampoo Mousse is a mild surfactant blend which is detergent free. Our puppy dry shampoo contains no alcohol or animal by-products. NO SLS or harsh detergents and is the safest option for your best friend. Safe for your puppy, but also minimal environmental impact on our planet. We do not promote testing on animals.

✅ Made in the USA.


✅ Made in the USA.