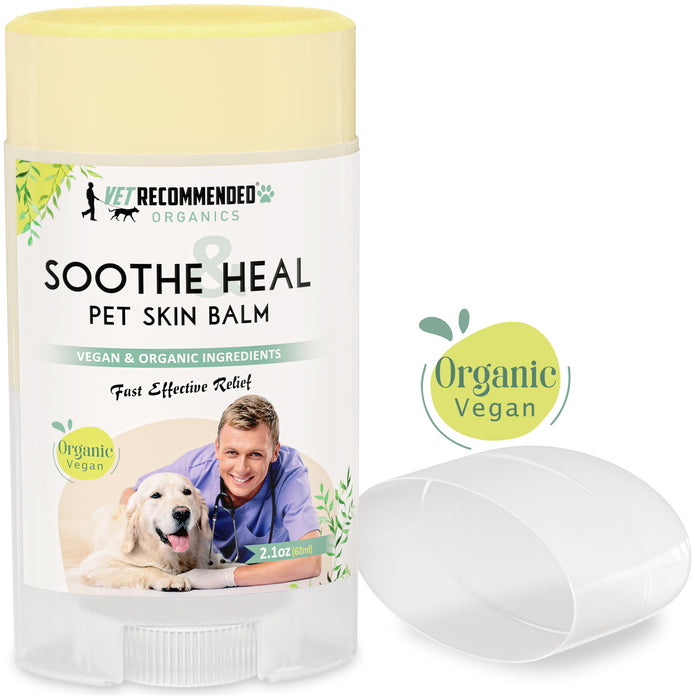 Soothe & Heal Balm for Pets - Organic & Vegan Ingredients - 2oz/59ml
✅ RID THE REDNESS & STOP THE SUFFERING: As pet parents it's heartbreaking to see our furry best friend in pain and anxiety caused by skin issues; it makes us feel helpless. Distressed and itchy skin dogs make for a miserable companion. Fortunately there is a safe and easy solution!

✅ SOFT BALM FOR SOFT APPLICATION: Unlike many skin products for dogs, other balm maybe applied directly, or using your finger you can apply soothing balm to the affected areas.

✅ WORKS FAST FOR FAST RELIEF OF SKIN CONDITIONS: This natural organic and vegan soothing balm will offer relief from skin issues such as rashes, redness, puffy and chapped dog skin, inflammation, itchiness, flaky skin, post surgery wounds and seasonal allergies. Fast relief soothing balm means you and your dog will sleep better at night.
✅ USA MADE - ORGANIC & VEGAN DOG BALM - SAFE - EASY TO APPLY -: Soothe & Heal natural organic dog skin balm contains only the finest selected ingredients. NO hard to pronounce ingredients. This means you can have peace of mind that what you are applying to your best friend's skin, is safe and effective.

✅ SAVE BIG MONEY ON VET BILLS: Our customers tell us constantly how our we saved them hundreds of dollars from expensive vet bills or vet products that don't work. Soothe & Heal has a complete 100% Money Back Guarantee. If the dog soothing balm doesn't provide fast and effective relief, simply ask us for your money back...easy.