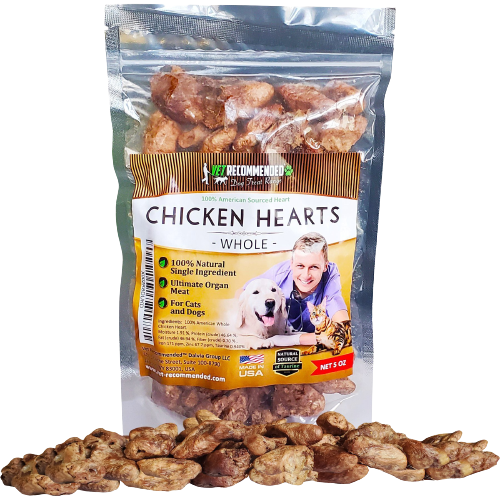 Whole Chicken Hearts (Giant 5oz Bag) Natural Source of Taurine. USA Made.
Freeze Dried All Natural Treats - Perfect Organ Meat for Dogs & Cats - Human Grade - Natural Source of Taurine - USA Made (5oz Bag)
✅
TAIL THUMPING EFFECT
: As soon as your pet hears the whole chicken hearts bag open, their tail will be thumping in anticipation and excitement for the deliciousness that's about to come. These healthy dog treats will keep them happy and healthy. Perfect to use a training treat for dogs, cats and puppies, or just because you love your best friend.
✅ THE INSANELY HIGH NUTRITIONAL SINGLE INGREDIENT TREAT: Among many other vitamins and minerals, chicken hearts provide folate, magnesium, manganese, phosphorus, potassium, and copper. No fillers, no synthetic vitamins or minerals; just packed with superior nutrition. Our freeze-drying process preserves the nutritional integrity of fresh, whole chicken hearts. This process also acts as a method of locking in the aroma, valuable nutrients, texture and freshness.
✅ WHOLE CHICKEN HEARTS FOR PETS: Not your regular organ meat for dogs and cats, these natural dog treats are approved whole chicken hearts sourced and grown here in the USA! The ultimate in nutritional dog snacks (and for cats as well!) Naturally gluten free! That's right, NO Gluten, NO Preservatives, NO Grains!
✅
TAURINE FOR DOGS & CATS
: Help to restore taurine deficiency in your best friend. Whole chicken hearts is the perfect natural source of taurine and ensures that many fundamental biological functions are healthy. Taurine also contains anti-inflammatory properties and may help with oxidative stress and healthy heart function. Taurine is a vital amino acid that is often lacking in commercial pet foods.
✅
DOG & CAT LOVE EM' GUARANTEE
: Your best friend will go CRAZY over this popular all treat for dogs, cats and puppies. If your pet doesn't love our dog snacks, simply get your money back...easy! You'll also instantly notice the rich color of the organ and tissue. It's a DELICIOUSNESS YOUR BEST FRIEND WILL LOVE and it will have them coming back for more!
✅ Made in the USA.