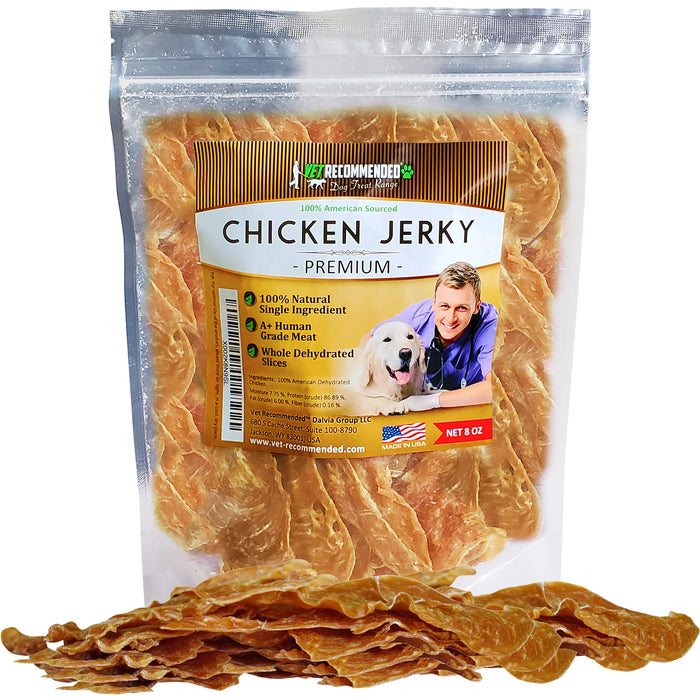 Chicken Jerky for Dogs - Single Ingredient - No Preservatives - Whole Dehydrated Chicken (8oz)
✅ CHICKEN JERKY DOG TREATS: Locally sourced and made in the USA only, this delicious chicken jerky for dogs is packed with flavour from a single US sourced ingredient giving you peace of mind in giving your dog the purest and cleanest chicken jerky.

✅ CHICKEN BREAST SLICES PRODUCED IN SMALL BATCHES FOR FRESHNESS: We want the best and freshest chicken dog treats for your best friend. Super fresh with no funky bad smell. No sugars and not greasy. Our chicken jerky for dogs can be used as the perfect dog training treats or just because you love your best family member.

✅ WHOLE ULTRA PREMIUM CHICKEN JERKY: No 'chicken by-product' here; just a single ingredient you can actually see. Not your regular healthy dog treats, these all natural dog treats are an incredible source of high quality protein. Lean, low in fat, highly addictive, nothing artificial and 100% natural. That's right, NO Gluten, NO Preservatives, NO Grains. 100% natural, ultra-premium. Your dog will love you even more.

✅ TAIL THUMPING EFFECT FOLLOWED BY HAPPY DANCE: As soon as your dog will hear the dehydrated chicken dog treats bag open, their tail will be thumping in anticipation and excitement for the deliciousness that's about to come. These dehydrated chicken dog treats will keep them busy and happy with a long lasting chew.

✅ EASY ON TEETH AND DIGESTION: They are easy on their teeth, stomach and are perfect picky eaters. It's a DELICIOUSNESS YOUR DOG WILL LOVE and it will have them coming back for more!

✅ Made in the USA.