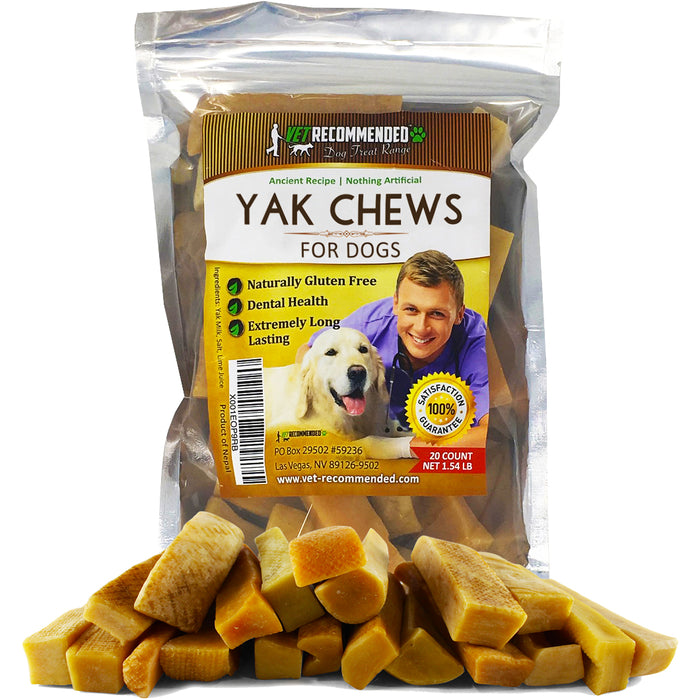 Yak Chew - 20ct - 1.54lbs - Dog Chews Long Lasting - The 100% Natural Healthy Dog Chew
✅ EXTREMELY LONG LASTING TREATS: Sometimes know as the (hemolayan yak chew), this delectable yak cheese dog chew will have your best friend begging for more.

✅NO UNPLEASANT ODOR: Unlike many animal chews, our treat smell delicious and are the perfect alternative to bully sticks and pigs ears.

✅ANCIENT RECIPE: From the hills of the himalayas, these himalyan yak chew contains all natural and healthy ingredients such as yak and cow milk, salt and lime juice.

✅NATURALLY GLUTEN FREE: That's right, NO Gluten, NO Preservatives, NO Chemicals, NO Grains. This delicious pack of yak chews contains nothing artificial; therefore you can have peace of mind that your dogs oral health is looked after.

✅BEST SMALL DOG TREATS FOR AGGRESSIVE CHEWERS (FOR MOST DOGS UNDER 15 LBS): The hard yak milk dog chew encourages quality chewing which can reduce tartar and improve your dogs overall oral dental health and hygiene. Perfect for the most intense chewers.