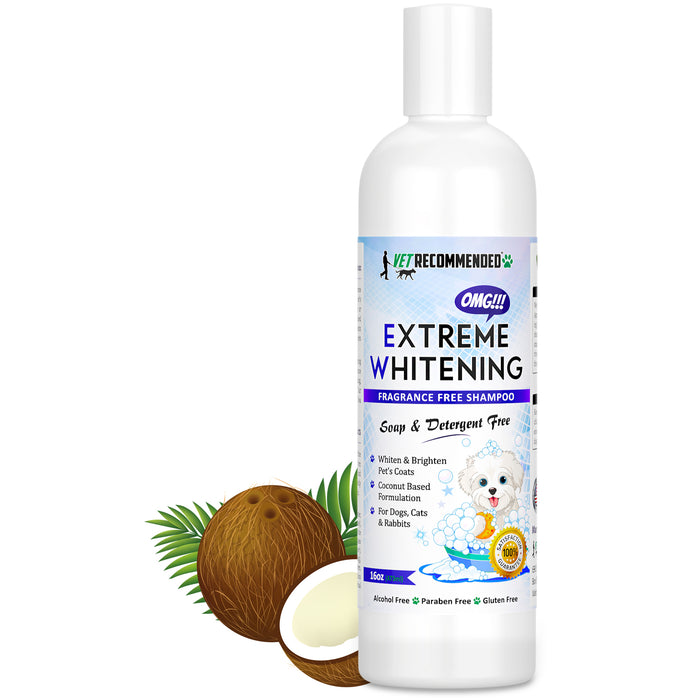 OMG Extreme Dog Whitening Shampoo - Coconut Based - No Harsh Soaps or Detergents - 16oz/473ml
✅ SOAP & DETERGENT FREE: The OMG Extreme Whitening Shampoo brightens your pet's coat naturally without harsh soaps or detergents. Our whitening shampoo for dogs and cats is coconut based and is made with the finest ingredients found in nature that will make your pets coat shine.
✅ FRAGRANCE FREE: Deodorize without artificial scents that irritate you or your pet. Simply use the Vet Recommended white coat pet shampoo maintain richness and brilliance of white and light coats in dogs and cats without the harsh fragrance.
✅ WON'T AFFECT TOPICAL FLEA TREATMENTS: Use with spot on flea treatments. Use the shampoo for white dogs as needed. You are also protected by our lifetime 100% Money Back Guarantee. No need to return the bottle.
✅ FREE OF NASTIES: No Parabens, No bleach, No peroxide, No alcohol, No Gluten or animal by-products. We LOVE your pet as much as you do. Simply clean the white coat without stripping natural oils from the skin. Coat will be enhance white and light coats without bluing, striping or bleaching the coat.
✅ FOR COLOR & WHITE COATS: Can also be used on all color coats. Eliminate the appearance of yellowing, stains and dingy fur while bringing out your pet's natural bright white coat.

✅ Made in the USA.