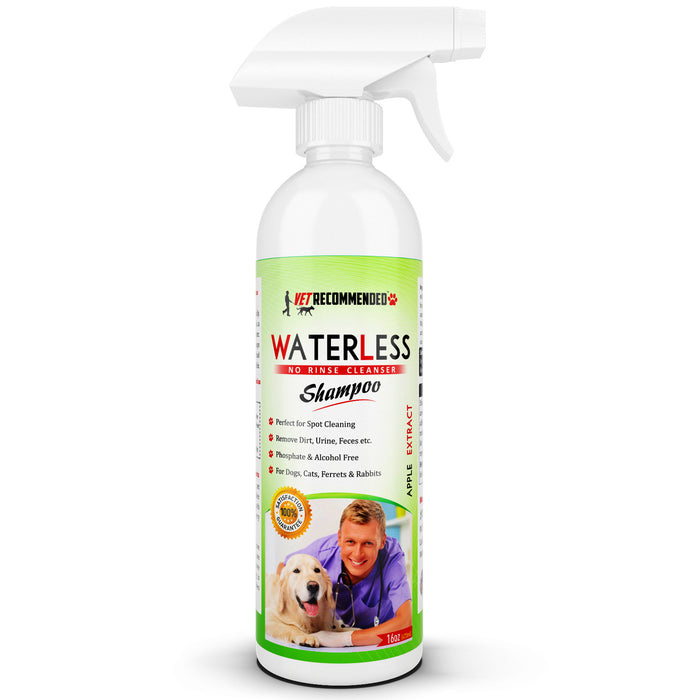 No Rinse Waterless Dog Shampoo - Detergent and Alcohol Free - 16oz/473ml
✅ JUST SPRAY & WIPE: Quick cleaning and ideal for a fresh and clean dog between washes. Use with an oatmeal dog shampoo between washes. Perfect dog grooming shampoo & for those inevitable pet accidents.

✅ WILL NOT STRIP THE COAT: Doesn't contain artificial dyes and will not discolor the coat. This hypoallergenic cleaner will have your pet feeling like silk. Use on dogs, cats, rabbits and ferrets.

✅ WON'T AFFECT TOPICAL FLEA TREATMENTS: Use with spot on flea treatments. Use the dry shampoo as needed. You are also protected by our lifetime 100% Money Back Guarantee. No need to return the bottle.

✅ CONTAINS NO HARMFUL ALCOHOL: Vet Recommended Waterless Pet Shampoo is a mild surfactant blend which is detergent free. Contains no alcohol or animal by-products. We LOVE your pet as much as you do.

✅ OUR SAFE COMMITMENT: Our packaging is made with recycled materials and eco-friendly. Safe for your pet, but also minimal environmental impact on our planet. We do not promote testing on animals.

✅ Made in the USA.