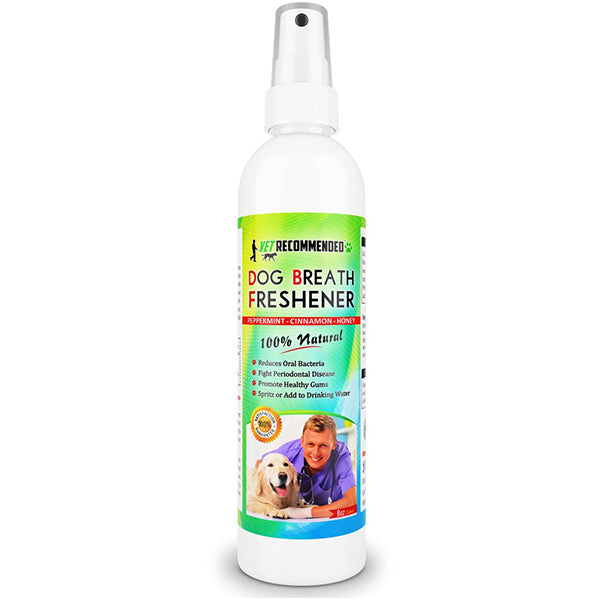 Dog Breath Freshener - 100% All Natural Ingredients - 8oz/240ml
✅ ELIMINATE BAD DOG BREATH: Vet Recommended dog breath spray freshener is an all natural formula contain antiseptic properties that makes dental care easy by reducing tartar and plaque buildup.

✅ SIMPLE TO USE: Simply lift gums and spray on front and side of your pet's mouth as part of dog teeth cleaning. NO BRUSHING is required but you may use with dog toothpaste to prevent oral disease.

✅ HOW IT WORKS: Cinnamon, clove and peppermint extract are scientifically designed to kill the germs that cause bad dog breath. Easily digestible, contains natural honey & naturally occurring minerals.

✅ SPRITZ OR ADD TO DRINKING WATER: Spray in pet's mouth OR use in water bowl by adding 3-5 sprays into a quart of fresh drinking water to prevent periodontal disease. Use as a cat breath freshener also.

✅ OUR SAFE COMMITMENT: Our packaging is made with recycled materials and eco-friendly. Safe for your pet, but also minimal environmental impact on our planet. We do not promote testing on animals.

✅ Made in the USA.