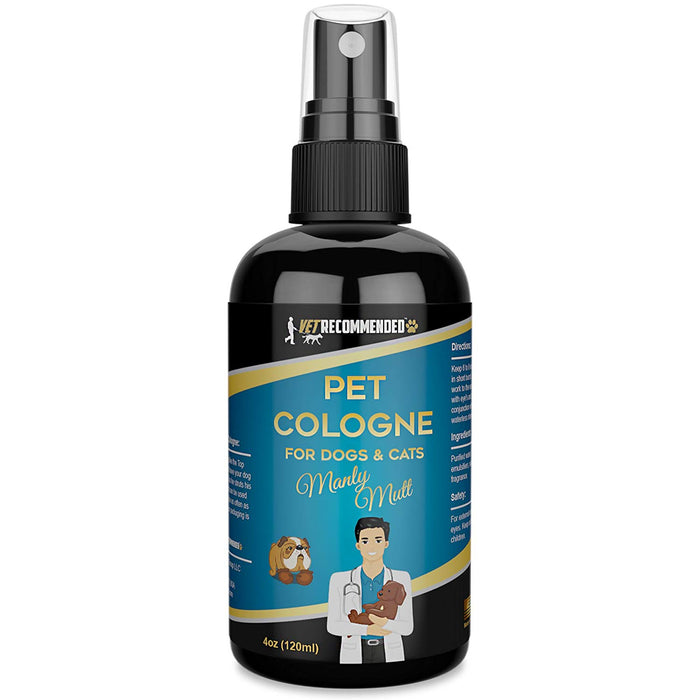 Dog Cologne Spray - Manley Mutt Scented - 4oz/120ml
✅ HAVE YOUR PET SMELLING LIKE THE TOP DOG...INSTANTLY!: Our Manly Mutt scented cologne for dogs to have your pet smelling just the top dog. You'll have people asking you, "Why does your dog smell so darn good?" Imagine the positive attention your best friend will get with the best male dog cologne on the market.

✅ YOU LOVE THEM...BUT SOMETIMES THEY STINK: Your family will thank you when your house and pet smell fresh again. Spray the dog cologne spray on their coat and have them smelling great between baths. Even your veterinary will thank you for using this dog grooming cologne because they will be smelling fresh for their visit.

✅ SOFT & SILKY COAT: Use the Vet Recommended dog perfume anytime, especially between baths or trips to the groomer and works also as a detangler for dogs and having them smelling like they just came from the doggy day spa.

✅ PERFECT SCENT LEVEL & STRENGTH: Our range of perfume spray for dogs will have your pet smelling amazing without being an overpowering scent. Will even tackle that wet dog smell that we all hate.

✅ MADE IN THE USA: The Vet Recommended perfumes for dogs range has a fragrance to suit every dog. Our family-owned business works hard to create the highest quality pet solutions.

✅ Made in the USA.