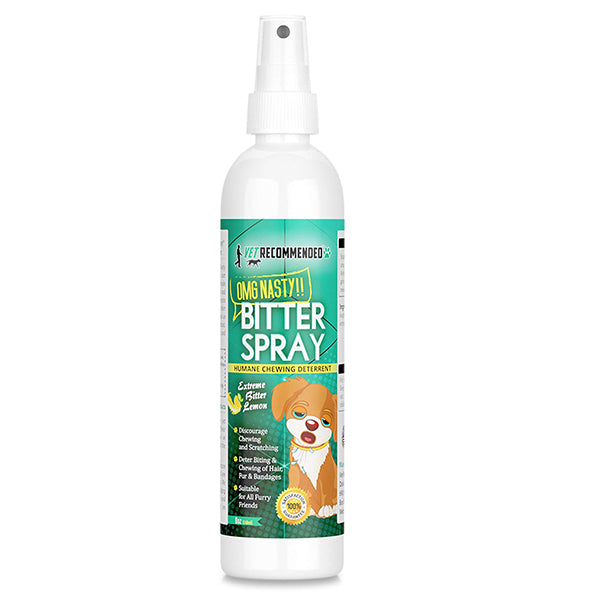 Bitter Lemon Spray For Dogs - Anti Chew Dog Training Tool - 8oz/240ml
✅ STOP THE BITING: Stop your pet from licking, chewing fur, bandages and wounds with this bitter apple spray for dogs; also with a bitter tart lemon formula. The dog bitter spray is non-toxic and safe.

✅ MORE EFFECTIVE THAN BITTER APPLE SPRAY CHEW SPRAY: The OMG Nasty lemon bitter spray, works on dogs, cats, rabbits, ferrets and is the perfect deterrent for bad chewing habits. Simply shake and spray directly onto topical skin. For external use only.

✅ USE ON TOPICAL SKIN AND OTHER ITEMS: Use the Vet Recommended anti chew spray on their skin, but also household items such as electrical cords, sneakers, plants, timber, plastic etc.

✅ ALCOHOL FREE SOLUTION: Vet Recommended OMG Nasty Bitter Spray contains deionized water, isopropanol 20% bitter agents and extracts. 100% Money Back Guarantee. Don't like it, simply get your money back.

✅ OUR SAFE COMMITMENT: Our packaging is made with recycled materials and eco-friendly. Safe for your pet, but also minimal environmental impact on our planet. We do not promote testing on animals.

✅ Made in the USA.