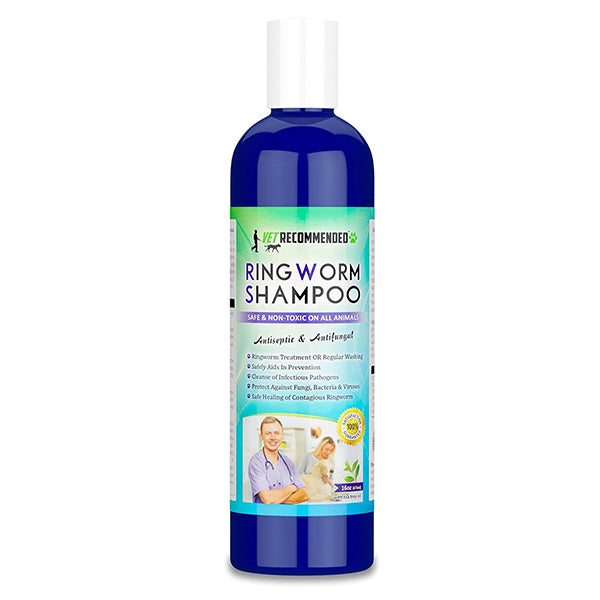 Medicated Dog Shampoo for Ringworm - 16oz/473ml
✅ REPLACEMENT FOR YOUR REGULAR PET WASHING & RINGWORM FUNGAL TREATMENT: The Vet Recommended is for the treatment and ongoing prevention of ringworm and fungi related skin conditions. The antibacterial antifungal shampoo is suitable as an ongoing preventive pet wash.

✅ LOW pH FORMULATION FOR ALL SKIN CONDITIONS: Low pH is critical for the effectiveness of pet shampoos. By creating a low pH ringworm shampoo for pets formulation, it does not allow pathogens to live.

✅ SUITABLE FOR ALL PETS: The safe and effective formulation provides outstanding results on dogs, cats, rabbits, ferrets and horses. Use as a stand alone product or in conjunction with the Vet Recommended Ringworm Treatment concentrate.

✅ STOP THE SUFFERING: Soothe irritation and strengthen the skin and coat. Our shampoo acts as a pet ringworm treatment to give relief to your pet quickly and effectively for all skin conditions like fungal dog skin allergy treatment, ringworm and seborrhea.

✅ ANTIBACTERIAL & ANTIFUNGAL: Safe chemistry formulation. An all natural concentrate which is chemistry is non-toxic, environmentally friendly, biodegradable, water soluble, hypoallergenic and GRAS (Generally Regarded As Safe).

✅ Made in the USA.